Old Stone House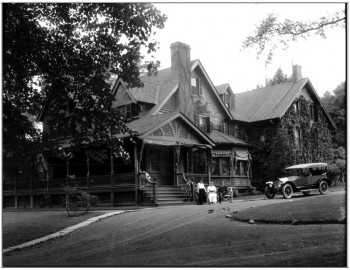 The Old Stone House in South Orange, believed to be the oldest standing building in New Jersey, was named one of the 10 Most Endangered Historic Places in the state by the Preservation New Jersey organization at a virtual press conference on Thursday, May 14, 2020.
The earliest reference to the Old Stone House dates to September 27, 1680, when it was mentioned in the minutes of a Newark town meeting to discuss and distribute land grants. Historians estimate that Dutch settlers built the farmhouse between 1666 and 1680 after arriving in Bergen.
The original stone foundation and walls sit within the building's expanded and remodeled footprint. This valuable piece of history sits nearly out of sight behind the South Orange police station between Grove Road and South Orange Avenue. The original was a 1-1/2 story Dutch Colonial on 75 acres of farmland.
Nathaniel Wheeler the first owner for whom we have records. Dr. Bethuel Pierson bought the property in 1773; and in 1867, William A. Brewer Jr. moved into the home and named it "Aldworth." Brewer influenced the early development of South Orange, including the purchase of Grove Park, and was president of Washington Life Insurance Company in New York City. He lived in the house for 50 years. Renovations in 1877 and 1896 transformed the farmhouse into a Queen Anne shingle-style mansion.
The Township of South Orange Village has owned the Old Stone House since 1953, when part of its land was taken for the construction of a new police station. The house was then used by the South Orange-Maplewood Board of Education, but since 1983 it has stood vacant and suffered significant water damage and deterioration. Despite significant alterations, three of the original stone walls are visible from the exterior, while a fourth can be seen from inside.
In 1991, the Stone House was added to both the New Jersey and National Registers of Historic Places. The house was awarded grants from the New Jersey Historic Trust in 2001 and 2002 for structural stabilization and mitigation of further water damage.