Welcome

Preserving the Past for the Future
About South Orange Historical and Preservation Society
Founded in 1986, the goal of the organization is to further the study of the history and architecture of the Village of South Orange, NJ.
We strive to:
~ Provide programs to disseminate historical, preservation and architectural information.
~ Support preservation activities within the Village of South Orange.
~ Support the recognition of landmark buildings and historic neighborhoods.
~ Promote adaptive reuse of significant historic structures rather than abandonment or demolition.
---
Saving the 1774 Squier Farmhouse
Thank you to all who supported the fund raiser to save the Squier Farmhouse!  A revised site plan that allows for preservation of the oldest portions of the house was approved by the Planning Board on March 25.  The structural and inspection reports have been received and forwarded to the architect and developer.
The home at 167 North Ridgewood was featured on our 2011 Gems of South Orange House Tour.  This vernacular stone farmhouse with clapboard additions was built around 1774 by Henry Squier who became a Lieutenant in the Revolutionary War army.  George Washington and troops likely drank from the well in front of the house as they passed by on the march from Montclair to Morristown. 
Henry's son Nathan grew up in the house and, around 1795, is credited with naming the community formerly referred to as Chestnut Hill or merely Orange as "South Orange".  Nathan ran a very successful distillery of corn and rye whiskies.  He was High Sheriff of Essex County in 1816 and an Inferior Court judge. 
 In 1850, the house and lands were acquired by William Redmond who is know for introducing Jersey cows to this section of the country.  He later built the Italianate mansion that is now occupied by Orange Lawn Tennis Club.  John Flood rented the hillside, now known as Flood's Hill, to pasture his cows and rented the house. 
Historic homes define and refine neighborhoods.  In addition to the irreplaceable history they represent, well maintained historic homes add visual appeal and diversity to neighborhoods as well as boost property values.  This is an intangible public good.  Those seeking to benefit from the public good should do so without diminishing it in the process.
---
The Old Stone House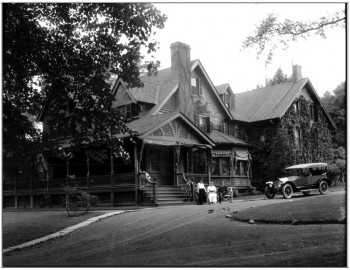 The Old Stone House in South Orange is believed to be the oldest standing building in New Jersey.  The earliest reference to the Old Stone House dates to September 27, 1680, when it was mentioned in the minutes of a Newark town meeting to discuss and distribute land grants. Historians estimate that Dutch settlers built the farmhouse between 1666 and 1680 after arriving in Bergen.
The house was substantial enlarged in the 1870's but three of the original stone walls are still visible.  This valuable piece of history sits nearly out of sight behind the South Orange police station between Grove Road and South Orange Avenue. The original was a 1-1/2 story Dutch Colonial on 75 acres of farmland.