Welcome

Preserving the Past for the Future
Next Meeting Wednesday, Dec 9 at 7 pm
Contact info@sohps.org for more information. 
---
About South Orange Historical and Preservation Society
Founded in 1986, the goal of the organization is to further the study of the history and architecture of the Village of South Orange, NJ.
We strive to:
~ Provide programs to disseminate historical, preservation and architectural information.
~ Support preservation activities within the Village of South Orange.
~ Support the recognition of landmark buildings and historic neighborhoods.
~ Promote adaptive reuse of significant historic structures rather than abandonment or demolition.
---
The Old Stone House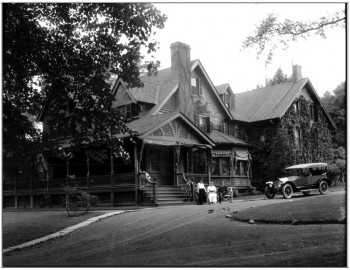 The Old Stone House in South Orange is believed to be the oldest standing building in New Jersey.  The earliest reference to the Old Stone House dates to September 27, 1680, when it was mentioned in the minutes of a Newark town meeting to discuss and distribute land grants. Historians estimate that Dutch settlers built the farmhouse between 1666 and 1680 after arriving in Bergen.
The house was substantial enlarged in the 1870's but three of the original stone walls are still visible.  This valuable piece of history sits nearly out of sight behind the South Orange police station between Grove Road and South Orange Avenue. The original was a 1-1/2 story Dutch Colonial on 75 acres of farmland.