Welcome
---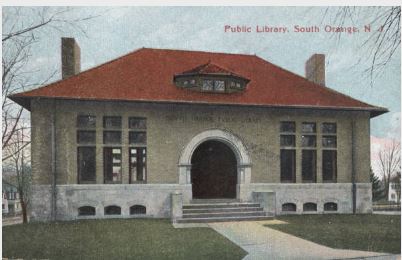 South Orange Historical & Preservation Society
&
South Orange Public Library
Present
A SYMPOSIUM IN HONOR OF
THE 150TH ANNIVERSARY OF
SOUTH ORANGE PUBLIC LIBRARY
SATURDAY, NOVEMBER 5, 2016
1:00 p.m. – 4:00 p.m.
South Orange Middle School
70 Ridgewood Road
South Orange, NJ 07079
Schedule 
Introductory Remarks – Sheena Collum, Village President; Karen Marlowe, President, SOHPS
Featured Speakers
Ed Lucas and Chris Lucas – Ed is an Emmy Award Winning Sportscaster, New Jersey Sports Writers Hall of Famer, NY Yankees Pressbox Legend
Ruby Scalera – Ruby is a recent Emerson College graduate with a degree in journalism. She has been writer and editor for a various online and in print publications, including Em Mag/Em Mag Online; Dirt Magazine; Black Swan Literary Magazine; and Guildscript Literary Magazine.
Elizabeth S. Budelman – Author, "150 Montrose," – A History of its Residents
Meg Marlowe and Tina Holcomb – South Orange Celebrates its Milestones – The Party is Here!
Dustin Dumas – Television Host of "Dustin's Kaleidoscope" (SOMA-TV), Author of "Lessons From a Recovering Worker Bee."
Also Featuring:
Melissa Kopecky & Alan Delozier – Vignettes – Historic Tales From Archives & Library South Orange & Beyond
Suggested Donation: $5.00

---


About South Orange Historical and Preservation Society
Since its formation in 1986 through the present, SOHPS has supported historic preservation and education efforts.
Our current primary objectives:
Developing outreach programs to all the businesses, historical societies, churches, schools and universities within South Orange
and the surrounding areas.
Developing educational programs of historic significance for our local communities, libraries
and school curricula and educational environments
 Preservation of significant historic structures, including the historic buildings and
districts on the National and State Historic Registers
Increasing membership and membership participation in all events and SOHPS activities.
Be sure to like us on Facebook: www.facebook.com/sohps; and follow us on Twitter @JustSOHistory.